MLS: R2704117
551 Sq Ft
1
1
$1,190,000
For Sale
Description
Incredible JAW DROPPING 180º VIEWS from this impeccably renovated pied-à-terre STYLISHLY SOPHISTICATED 1 bedmroo created by CELEBRITY DESIGNER KELLY DECK. No expense spared to craft this stunning WORK OF ART & arguably the FINEST restoration in Seastrand! Amazingly ingenious storage hidden in the CUSTOM MILLWORK with concealed doors & pull outs. A cleverly planned closet in the bedroom built-in office area, kitchen with island featuring AEG built in oven, LIEBHERR fridge. Interior finishes incl FRENCH OAK flooring, elegant SATIN BRASS HARDWARE, BIANCO SATUARIO MARBLE, MARRAKESH TERRA COTTA & so much more. Timelessly tasteful, this suite is located on the waterfront in desirable Dundarave w/ a swimming pool overlooking the ocean. It''s a heavenly abode. Rentals allowed and you can bring your cat too
Click the thumbnail below to view the brochure for 1402 150 24th Street.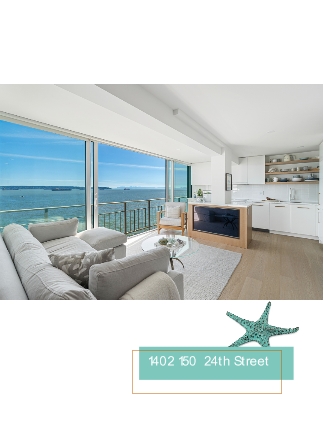 Features
$1,190,000
Outdoor pool
551 Sq. Ft. Living
0 Sq. Ft. Property
Secure Entry
1 Bedrooms
1 Bathrooms
$2,222 Approx tax
Erwin Park Elementary Catchment
West Van High School Catchment
Floor Plan
Property Location
Flip Book
Location Score
Incredible JAW DROPPING 180º VIEWS from this impeccably renovated pied-à-terre STYLISHLY SOPHISTICATED 1 bedmroo created by CELEBRITY DESIGNER KELLY DECK. No expense spared to craft this stunning WORK OF ART & arguably the FINEST restoration in Seastrand! Amazingly ingenious storage hidden in the CUSTOM MILLWORK with concealed doors & pull outs. A cleverly planned closet in the bedroom built-in office area, kitchen with island featuring AEG built in oven, LIEBHERR fridge. Interior finishes incl FRENCH OAK flooring, elegant SATIN BRASS HARDWARE, BIANCO SATUARIO MARBLE, MARRAKESH TERRA COTTA & so much more. Timelessly tasteful, this suite is located on the waterfront in desirable Dundarave w/ a swimming pool overlooking the ocean. It''s a heavenly abode. Rentals allowed and you can bring your cat too
Floor Plan
Contact Us About this Property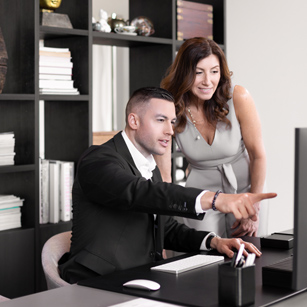 Office Locations: North Shore, Yaletown, Oak St. & Downtown
604 925 1175
Subscribe to our

MarketBrief
Get news and insights of our market, sometimes tounge in cheek, but always fun.